Ad blocker interference detected!
Wikia is a free-to-use site that makes money from advertising. We have a modified experience for viewers using ad blockers

Wikia is not accessible if you've made further modifications. Remove the custom ad blocker rule(s) and the page will load as expected.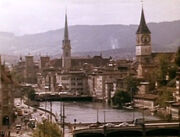 Lucerne was a city in Switzerland where Steve Austin and OSI scientist Erica Bergner went to find William Henry Cameron's kidnappers. They travelled to the city on the basis of a hunch Bergner had after having been grafted with the memories of Roger Ventriss, according to a medical procedure she had devised.
While in the city, Bergner and Austin posed as man and wife, stayed in a luxury hotel, and used a local casino as a way to solicit infomation about the kidnappers' whereabouts. (The Solid Gold Kidnapping)
External Link