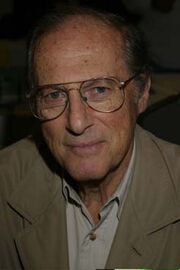 Canadian actor Lloyd Bochner (1924-2005) was a prolific television actor whose career spanned close to 60 years. His style of performance, in many ways similar to that of Richard Anderson, often saw him cast as urbane businessman- or military-type characters, and often as villains, in shows ranging from westerns to Mission: Impossible and, of course, five appearances on The Six Million Dollar Man and The Bionic Woman (as four different characters).
His most iconic performance, however, was arguably the one he gave in the famous Twilight Zone episode, "To Serve Man".
Biography
External Links
Ad blocker interference detected!
Wikia is a free-to-use site that makes money from advertising. We have a modified experience for viewers using ad blockers

Wikia is not accessible if you've made further modifications. Remove the custom ad blocker rule(s) and the page will load as expected.