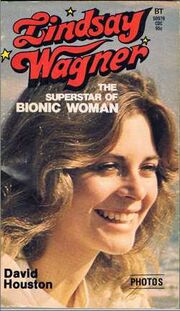 Lindsay Wagner: The Superstar of Bionic Woman by David Houston, is a biography of Bionic Woman star Lindsay Wagner that was published in paperback by Tower Books in 1976. Besides including biographical information about Wagner up to that time, the book also includes information on the creation of the Bionic Woman spinoff and also includes photographs from The Six Million Dollar Man, while also devoting chapters to brief biographies of Lee Majors and Richard Anderson.
Ad blocker interference detected!
Wikia is a free-to-use site that makes money from advertising. We have a modified experience for viewers using ad blockers

Wikia is not accessible if you've made further modifications. Remove the custom ad blocker rule(s) and the page will load as expected.