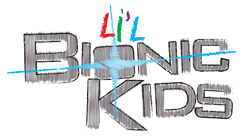 Li'l Bionic Kids is a comic book one-shot released by Dynamite Entertainment in February 2014.
The title is an all-ages approach to The Six Million Dollar Man and The Bionic Woman similar to other franchises such as Tiny Titans, Li'l Batman, Itty Bitty Hellboy, and Li'l Battlestar Galactica.
The script was written by Brandon Jerwa, with interior art by Ian McGinty and colors by Andrew Elder. The activity sheet in the back of the book features art by Roger Langridge and Andrew Elder, including puzzles and games.
The issue ships with three variant covers: