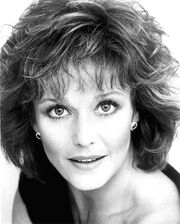 Biography
Lenore Kasdorf has made many appearances on television, including the following series: High Incident, Babylon 5, Murder She Wrote, Coach, Jake and the Fatman, Knight Rider, Days of our Lives, Streets of San Francisco, Ironside, Barnaby Jones (and others).
External Links
Ad blocker interference detected!
Wikia is a free-to-use site that makes money from advertising. We have a modified experience for viewers using ad blockers

Wikia is not accessible if you've made further modifications. Remove the custom ad blocker rule(s) and the page will load as expected.