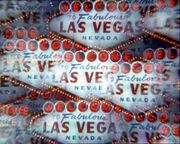 Las Vegas, Nevada is one of the world's premier destinations for gambling. It is dominated by "the strip", an area of dense casinos which advertise their wares by way of neon signage.
Jaime Sommers once had to go to Las Vegas to receive training as a card dealer prior to her mission in a casino onboard a cruise liner. (Assault on the Princess). It was also the home of scientist Rod Kyler, who lived in a luxury penthouse there. The developer of an energy ray weapon, he was a target of Carl Franklin and his army of resurrected fembots. Franklin sent a contingent of his father's fembots to Las Vegas in order to steal the weapon, deploy it, and blackmail the US Government into handing over Jaime, Oscar and Rudy to him. This, he thought, would allow him to avenge his father's death. (Fembots in Las Vegas).
External Link
Ad blocker interference detected!
Wikia is a free-to-use site that makes money from advertising. We have a modified experience for viewers using ad blockers

Wikia is not accessible if you've made further modifications. Remove the custom ad blocker rule(s) and the page will load as expected.