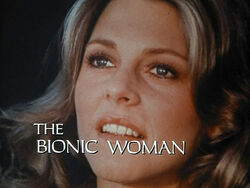 La Mujer Biónica (literally: The Bionic Woman) was the title used for the Spanish-dubbed versions of the Bionic Woman in both Spain, Mexico, and South America.
Promo
It aired on El Canal de las Estrellas de Televisa from 1977-1979 second on Canal 3 de Televisa Mexicali in 1984-1986, Canal 9 de Televisa and XEFE-TV Canal 2 de Televisa Nueo Laredo from 1988-1990 Azteca 7 in 2000-2002
DVD (South America)
Release Title: La Mujer Biónica. Temporada 1 Completa
Release Date: January 28, 2008
Soundtrack: Spanish, English (Dolby Digital 2.0)
Subtitles: Spanish, English
Additional Features: None
External Links
Ad blocker interference detected!
Wikia is a free-to-use site that makes money from advertising. We have a modified experience for viewers using ad blockers

Wikia is not accessible if you've made further modifications. Remove the custom ad blocker rule(s) and the page will load as expected.