Ad blocker interference detected!
Wikia is a free-to-use site that makes money from advertising. We have a modified experience for viewers using ad blockers

Wikia is not accessible if you've made further modifications. Remove the custom ad blocker rule(s) and the page will load as expected.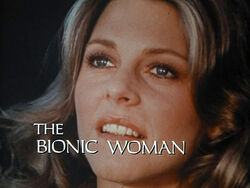 La Mujer Biónica (literally: The Bionic Woman) was the title used for the Spanish-dubbed versions of the Bionic Woman in both Spain, Mexico, and South America.
Promo
It aired on El Canal de las Estrellas de Televisa from 1977-1979 second on Canal 3 de Televisa Mexicali in 1984-1986, Canal 9 de Televisa and XEFE-TV Canal 2 de Televisa Nueo Laredo from 1988-1990 Azteca 7 in 2000-2002
DVD (South America)
Release Title: La Mujer Biónica. Temporada 1 Completa
Release Date: January 28, 2008
Soundtrack: Spanish, English (Dolby Digital 2.0)
Subtitles: Spanish, English
Additional Features: None
External Links