Ad blocker interference detected!
Wikia is a free-to-use site that makes money from advertising. We have a modified experience for viewers using ad blockers

Wikia is not accessible if you've made further modifications. Remove the custom ad blocker rule(s) and the page will load as expected.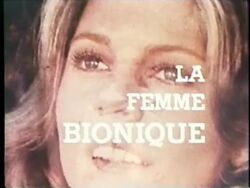 La Femme Bionique (literally: The Bionic Woman) was the title used for the French-dubbed version of the Bionic Woman as seen in the French-speaking part of Canada (Quebec).
Voice Actors
| Character | Voice Actor |
| --- | --- |
| Steve Austin | - Michel Dumont |
| Jaime Sommers | - Claudine Chatel |
| Oscar Goldman | - Jean Fontaine |
| Rudy Wells | - Benoît Marleau |
Episode List
Season One (1976)
   1 (1- 1) : Bienvenue Jaimie I (Welcome Home, Jaime I)
   2 (1- 2) : Bienvenue Jaimie II (Welcome Home, Jaime II)
   3 (1- 3) : Sauvetage à Costa Brava (Angel of Mercy)
   4 (1- 4) : Témoin du passé (A Thing of the Past)
   5 (1- 5) : Les Griffes (Claws)
   6 (1- 6) : Les Missiles de la mort (The Deadly Missiles)
   7 (1- 7) : Concours de beauté (Bionic Beauty)
   8 (1- 8) : La Mère de Jaimie (Jaime's Mother)
   9 (1- 9) : Gagner c'est l'essentiel (Winning is Everything)
  10 (1-10) : Le Canyon de la mort (Canyon of Death)
  11 (1-11) : Les Naufragés (Fly Jaime)
  12 (1-12) : Derrière les barreaux (The Jailing of Jaime)
  13 (1-13) : Double identité (Mirror Image)
  14 (1-14) : Chasseur de fantômes (The Ghost Hunter)

Season Two (1976-1977)
  15 (2- 1) : Faibles femmes (In this Corner, Jaime Sommers)
  16 (2- 2) : Rendez-vous en haute mer (Assault on the Princess)
  17 (2- 3) : Mission à Nashville (Road to Nashville)
  18 (2- 4) : Pour la vie d'Oscar I (Kill Oscar I)
  19 (2- 5) : Pour la vie d'Oscar II (Kill Oscar II)
  20 (2- 6) : Pour la vie d'Oscar III (Kill Oscar - Part 3)
  21 (2- 7) : Frissons à la carte (Black Magic)
  22 (2- 8) : Sœur Jaimie (Sister Jaime)
  23 (2- 9) : Les Ondes de l'espace (The Vega Influence)
  24 (2-10) : Ringa Gabrin I (Jaime's Shield I)
  25 (2-11) : Ringa Gabrin II (Jaime's Shield II)
  26 (2-12) : Méditation (Biofeed Back)
  27 (2-13) : Alex I (Doomsday is Tomorrow I)
  28 (2-14) : Alex II (Doomsday is Tomorrow II)
  29 (2-15) : Sosie bionique I (Deadly Ringer I)
  30 (2-16) : Sosie bionique II (Deadly Ringer II)
  31 (2-17) : Jaimie et le roi (Jaime and the King)
  32 (2-18) : Kim (Beyond the Call)
  33 (2-19) : Le Coup de Dijon (The Dejon Caper)
  34 (2-20) : Le Démon de la nuit (The Night Demon)
  35 (2-21) : la Tombe d'acier (Iron Ships and Dead Men)
  36 (2-22) : Mission : vol (Once a Thief)

Season Three (1977-1978)
  37 (3- 1) : Le Chien bionique I (The Bionic Dog I)
  38 (3- 2) : Le Chien bionique II (The Bionic Dog II)
  39 (3- 3) : Le Prisonnier de Las Vegas I (Fembots in Las Vegas I)
  40 (3- 4) : Le Prisonnier de Las Vegas II (Fembots in Las Vegas II)
  41 (3- 5) : Rodéo (Rodeo)
  42 (3- 6) : La Filière africaine (African Connection)
  43 (3- 7) : La Liberté est à l'ouest (Motorcycle Boogie)
  44 (3- 8) : Lavage de cerveau (Brain Wash)
  45 (3- 9) : Quand l'amour s'en mêle (Escape to Love)
  46 (3-10) : Max (Max)
  47 (3-11) : L'Espion fait cavalier seul (Over the Hill Spy)
  48 (3-12) : La Menace (All for One)
  49 (3-13) : La Pyramide (The Pyramid)
  50 (3-14) : L'Antidote (The Antidote)
  51 (3-15) : Voilà les Martiens (The Martians Are Coming, the Martians Are Coming)
  52 (3-16) : La Princesse Aura (Sanctuary Earth)
  53 (3-17) : Mortellement vôtre (Deadly Music)
  54 (3-18) : Qui est la vraie Jaimie ? (Which One is Jaime?)
  55 (3-19) : Voyage astral (Out of Body)
  56 (3-20) : Pour que vive le roi (Long Live the King)
  57 (3-21) : En dansant le flamenco (Rancho Outcast)
  58 (3-22) : Adieu la liberté (On the Run)

TV Movies
   1  : Mission bionique (The Return of the Six Million Dollar Man and the Bionic Woman)
   2  : L'Espion bionique (Bionic Showdown: The Six Million Dollar Man and the Bionic Woman)
   3  : Mariage bionique (Bionic Ever After?)