You may be looking for one of the other comic publications listed at The Six Million Dollar Man (comics) or Super Jaimie, the adventures of Jaime Sommers in TELEjunior
L'Homme qui valait trois milliards, most often written L'Homme qui valait 3 milliards, was the name Six Million Dollar Man stories took in the pages of the French magazine, TELEjunior. There were two different ways TELEjunior used Steve Austin.
He was apparently present in strip stories in the regular issues of the main TELEjunior monthly. Like his presence in the British Look-in magazine, he was in short stories alongside any number of different television and American comics heroes, during the magazine's run from 1977 to 1980. The general cover price for issues of the regular magazine was about 5f.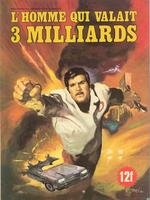 But on one occasion he was also in what was called in France an album, or a long-form work devoted exclusively to him. This work, which did not bear the TELEjunior logo on the front cover, was loosely similar to what would today be considered a trade paperback, both in editorial intent and physical format. This October 1980 work featured art by Le Goff and writing by P. Tabet and Bodis. It sold for the slightly higher-than-normal price of 12f.[1] The album was in full color, had 48 pages, was square bound with a stitched cover, and had dimensions of 215mm x 290mm.[2]
Details about either form of 3 milliards are hard to come by. It is currently unknown in how many issues of the regular magazine the strip ran, whether that run was consecutive or irregular, what characters and situations common to the television series were present, or how many total published pages exist. What can be said with some certainty is that, unlike the UK, the stories featuring Steve Austin began late in the run of the program in America. Thus, The Bionic Woman was already a known property before the first Steve Austin story was ever penned. The two strips thus ran completely concurrently in the pages of TELEjunior. The album was published after the television series had finished in the United States, making it perhaps the longest work in the world to feature a Steve Austin character model that included a mustache.
References
↑ BD's on the WEB. Note that this source conflicts with Encyclo'BD in that it gives a different (and more specific) date, along with entirely different writers. As it in general has much more information about TELEjunior, disputed facts between the two sources have been resolved by accepting this source over Encyclo'BD.
Ad blocker interference detected!
Wikia is a free-to-use site that makes money from advertising. We have a modified experience for viewers using ad blockers

Wikia is not accessible if you've made further modifications. Remove the custom ad blocker rule(s) and the page will load as expected.