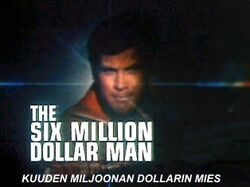 Kuuden Miljoonan Dollarin Mies (literally: The Six Million Dollar Man) was the title used for the Finnish version of the Six Million Dollar Man. In Finland, the show was broadcast in English with Finnish subtitles (first broadcast in 1976).
Opening Subtitles
"Steve Austin, astronautti. Hädin tuskin elossa. Me voimme rakentaa hänet uudellen. Voimme tehdä hänestä ensimmäisen bionisen ihmisen. Steve Austin on se mies. Hänestä tulee entistä parempi. Parempi, voimakkaampi, nopeampi..."
Ad blocker interference detected!
Wikia is a free-to-use site that makes money from advertising. We have a modified experience for viewers using ad blockers

Wikia is not accessible if you've made further modifications. Remove the custom ad blocker rule(s) and the page will load as expected.