(1950-53)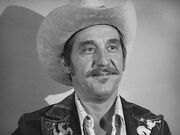 Jun 25, 1950 - North Korean forces invade South Korea. The Korean War commences.
It is a war between the Republic of Korea (South Korea), supported by the United Nations, and the Democratic People's Republic of Korea (North Korea), at one time supported by the People's Republic of China and the Soviet Union.
It was primarily the result of the political division of Korea by an agreement of the victorious Allies at the conclusion of the Pacific War at the end of World War II.
This war is part of the Cold War.
Oscar and Muffin Calhoon (future OSI agent) are working in intelligence together some time during the Korean War ("Road to Nashville").
The son of Doug Witherspoon, the future Philadelphia bomb squad captain, dies in the Korean War ("The Price of Liberty").
Jul 27, 1953 - An agreement is reached. The border between the Koreas near the 38th Parallel is restored. The fighting ends.
Ad blocker interference detected!
Wikia is a free-to-use site that makes money from advertising. We have a modified experience for viewers using ad blockers

Wikia is not accessible if you've made further modifications. Remove the custom ad blocker rule(s) and the page will load as expected.