Ad blocker interference detected!
Wikia is a free-to-use site that makes money from advertising. We have a modified experience for viewers using ad blockers

Wikia is not accessible if you've made further modifications. Remove the custom ad blocker rule(s) and the page will load as expected.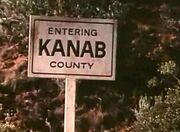 Kanab County was the home of a rare, male golden cougar, nicknamed "Taneha", who was terrorizing the stock of local ranchers. In response, the ranchers invited a special tracker to kill the beast. These efforts were opposed by Steve Austin. Complying with the wishes of his friend, Bob Elliot, Austin trapped Taneha, instead of killing him, because the lion was the last known male cougar in the area. In this effort, Austin and his guide, E. J. Haskell walked on foot all over the backcountry of the mountainous county. (Taneha)
Known residents of Kanab County
Deconstructed
Kanab County is only slightly fictional. In real life, it was Kane County, Utah, whose county seat is the town of Kanab. The area has been called "Utah's little Hollywood" due to its regular use by the film industry. The Six Million Dollar Man frequently used the area for filming.[1]
The episode stops short of identifying the state as Utah. However, license plates on some of the car can be clearly identified as Colorado ones, which would be appropriate, given Kane/Kanab's proximity to Colorado.
References