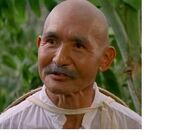 John Fujioka (b. 1925) is a Hawaiian-born actor of Japanese descent who has enjoyed a prolific career playing various Japanese characters in film and television since the early 1960s. Originally credited as John Mamo, Fujioka appeared numerous times on series such as McHale's Navy, M*A*S*H, and Tales of the Gold Monkey.
He appeared twice on The Six Million Dollar Man as Kuroda, a Japanese soldier who spent decades in the jungle, unaware World War II had ended.
Fujioka's most recent credit was a voice acting assignment for a videogame in 2004.
Guest Starred as Kuroda
Biography
External links