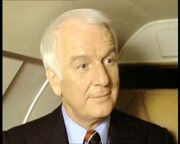 Dr. James Courtney is a skilled plastic surgeon and founder of the Courtney Medical Clinic in Bethesda, MD. He performed reconstructive plastic surgery on Lisa Galloway, transforming her into an incredible likeness of Jaime Sommers. Previously, Galloway was his secretary for 2 years.
Dr. Courtney conspired with Lisa Galloway and others to steal top-secret OSI documents and assassinate Oscar Goldman using a lethal dart pen. Once in prison for committing this crime, Courtney learns that there is a high demand for doctors, and is assigned to work in the Drug Testing Ward of the prison hospital. He is given adrenalizine - a new drug compound developed by Dr. Rudy Wells, to administer to paralytic patients. While giving a volunteer convict a dose of the drug, Courtney witnesses a miraculous transformation. Within 60 seconds seconds, the drug enables a paralyzed man to once again walk. Courtney was excited by the possibilities, and wondered what would happen if the drug did not have a specific area of paralysis to go to. So, late that same night, when Courtney was momentarily left alone in the lab, he took the chance to test a small dose on himself. He felt his skin tingle as the adrenalizine generalized its effect over his entire body. Dizzy with power, and deciding to test this new sensation, Courtney bent the bars of the cell door to the lab. He realized the potential of the drug, and taking the remainder of the adrenalizine with him, jumped the prison walls and escaped.
Dr. Courtney enjoyed the sensation for a half hour, but immediately knew this was his chance to help Galloway escape so that she could not only impersonate Jaime Sommers, but her strength as well. The Doctor plotted to kidnap Jaime, and used prison officials at the Delaware Federal Penitentiary to put the real Jaime in Galloway's cell, while Galloway was brought to the airport where he met her. Flying Galloway out to Ojai, California, Courtney instructs her to find what he believes to be the source of Jaime's strength, and to obtain the formula for adrenalizine from the OSI so that he could sell it to the foreign interests that are financing him. After a year in jail, when Courtney and Galloway meet again, he approaches her in an almost fatherly manner, and promises her that this is the start of a better life.
As Galloway settles into the life of Jaime Sommers, Courtney contacts her to inquire about the adrenalizine. While she wants to share her new-found joy, he is frustrated by her lack of focus and directs her to go to Washington, D.C. to continue her search at the OSI. When Galloway calls seeking reassurance that she can continue her life as Jaime Sommers, he tries to persuade her to forget about that life, and tells her that ultimately it is the money that will bring happiness. He is unaware that Galloway has made her decision. She returns to Ojai to continue living as Jaime Sommers and betrays Courtney's whereabouts to the OSI.
Courtney is also unaware that Jaime has escaped, or that Galloway has called to inform authorities of his whereabouts, until the OSI apprehends him. As the agents take him away, he mocks Lisa's decision to live as Jaime Sommers: "Good luck, Lisa!" - not realizing that he is in fact talking to the real Jaime.
Ad blocker interference detected!
Wikia is a free-to-use site that makes money from advertising. We have a modified experience for viewers using ad blockers

Wikia is not accessible if you've made further modifications. Remove the custom ad blocker rule(s) and the page will load as expected.