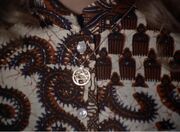 Jaime's necklace was a present from her mother, Ann Sommers. Ann gave the necklace to her daughter before leaving to meet Chris Stuart on April 16, 1966. On this date, Ann was involved in a fatal accident that killed both herself and Jaime's father, James Sommers. Chris Stuart would use this story when she returned to Ojai nearly ten years later to prove that she was Jaime's Mother.
Jaime begins wearing the necklace regularly while watching Neil the lion for her friend Susan Victor, and continues wearing it for almost a year.
Ad blocker interference detected!
Wikia is a free-to-use site that makes money from advertising. We have a modified experience for viewers using ad blockers

Wikia is not accessible if you've made further modifications. Remove the custom ad blocker rule(s) and the page will load as expected.