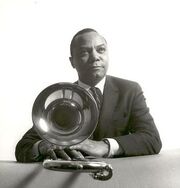 J. J. Johnson was a composer for film and television whose credits include Cleopatra Jones. After scoring "The Golden Pharaoh" in Season 3 of The Six Million Dollar Man, he was brought back as the show's regular composer for almost all of Season 4 and the majority of Season 5, making him the show's most prolific composer after Oliver Nelson.
Music
Biography
born James Louis Johnson on January 22, 1924 in Indianapolis, IN. Died February 4, 2001 in Indianapolis, IN.
External Links
Ad blocker interference detected!
Wikia is a free-to-use site that makes money from advertising. We have a modified experience for viewers using ad blockers

Wikia is not accessible if you've made further modifications. Remove the custom ad blocker rule(s) and the page will load as expected.