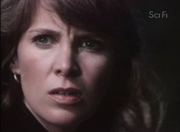 Irina Leonova is a Soviet officer and scientist. She was engaged to marry Cosmonaut Vasily Zhukov, who died in the crisis following an earthquake at Kamkov Island. Prior to Vasily's death, she met his friend, American Astronaut Steve Austin.
Two years later, the Soviet Venus Probe, her own design, accidentally crashes in northern Wyoming, and she arrives in the US undercover to find the probe before the Americans do, in the company of the KGB's Major Popov. While searching for the Probe, she meets Colonel Austin again, and they renew their friendship – and more.
Ad blocker interference detected!
Wikia is a free-to-use site that makes money from advertising. We have a modified experience for viewers using ad blockers

Wikia is not accessible if you've made further modifications. Remove the custom ad blocker rule(s) and the page will load as expected.