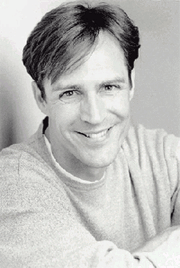 Guest Starred as Worker
Biography
Howard McGillian (November 5, 1953 - ) started his career in television during the mid-1970s. He played various characters on daytime soap operas, including The Young and the Restless (1981 - 1982), Search for Tomorrow (1986), As the World Turns (1987), and One Life to Live (1999). McGillin has also lent his voice to several animated feature films.
In 1985, McGillin was featured in Broadway's The Mystery of Edwin Drood, for which he earned a Tony Award nomination for "Best Featured Actor in a Musical".[2] He continued to star on Broadway with Anything Goes, for which he earned a Tony Award nomination in 1988 for "Best Actor in a Musical".[3]
McGillin is currently portraying "The Phantom" in The Phantom of the Opera on Broadway. He earned the title of the "Longest-Running Broadway Phantom" after his 1,500th appearance in August 2006.[4]
External Links
Ad blocker interference detected!
Wikia is a free-to-use site that makes money from advertising. We have a modified experience for viewers using ad blockers

Wikia is not accessible if you've made further modifications. Remove the custom ad blocker rule(s) and the page will load as expected.