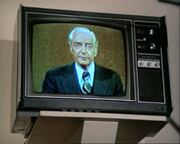 Howard K. Smith (12 May 1914 — 15 February 2002) was an uncredited performer in Kill Oscar (Part III). The credit would not have been neccessary to contemporary viewers of the initial broadcast of the episode. He had recently completed a stint as the ABC Evening News anchor, and was still employed by the network as a regular news analyst. His usage in front of the "ABC News" logo lent immediate verisimilitude to the events of the episode.
Throughout the 1970s and early 1980s he often portrayed himself (or an unnamed newsreader) in exactly the same way he was used on The Bionic Woman. Other notable instances include The Candidate, Close Encounters of the Third Kind, and The Best Little Whorehouse in Texas. Producer Kenneth Johnson regularly used Smith as a kind of narrator in the initial miniseries of V, a show that he created after The Bionic Woman.
External Links
Ad blocker interference detected!
Wikia is a free-to-use site that makes money from advertising. We have a modified experience for viewers using ad blockers

Wikia is not accessible if you've made further modifications. Remove the custom ad blocker rule(s) and the page will load as expected.