Character played by: Laurette Spang
Helen (Wave)
Job/Career or Title
WAVE
Appearances
SMDM 
Survival of the Fittest
BW 
none
Reunion 
none
Helen Machek is a Yeoman Third Class in the United States Navy. She is a passenger on flight 171 to Dulles. While en route, Helen meets Pfc Barris, and the two strike up a conversation. When Barris states that a person should be aware of their limitations, Helen replies that she's not sure what hers are yet. Surviving the plane crash, Helen volunteers to help Lt. Colby provide medical aid despite her lack of experience, and encourages Barris to exceed his limits.

Trivia
Helen is a WAVE, an acronym for Women Accepted for Volunteer Emergency service. WAVEs enlisted in this branch of the Navy that originated during World War II, but is no longer a separate branch.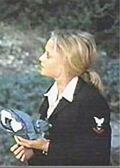 Ad blocker interference detected!
Wikia is a free-to-use site that makes money from advertising. We have a modified experience for viewers using ad blockers

Wikia is not accessible if you've made further modifications. Remove the custom ad blocker rule(s) and the page will load as expected.