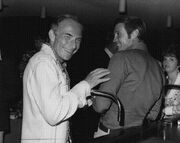 Harve Bennett is the Executive Producer of The Six Million Dollar Man. Also known for his work on other TV series and the Star Trek film franchise, Bennett also made an on-screen contribution to The Six Million Dollar Man: it is his voice that intones "Steve Austin: astronaut. A man barely alive." In the opening credits.
Ad blocker interference detected!
Wikia is a free-to-use site that makes money from advertising. We have a modified experience for viewers using ad blockers

Wikia is not accessible if you've made further modifications. Remove the custom ad blocker rule(s) and the page will load as expected.