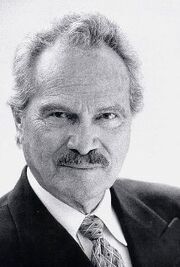 H.M. Wynant (born Haim Weiner, February 12, 1927 in Detroit, Michigan) is an American film and television actor.
Wynant played Bill McAdams, head of the OGA, in the third season of Six Million Dollar Man. His character appeared on the episode "Clark Templeton O'Flaherty."
Among Wynant's other television credits are appearances on shows such as Playhouse 90, Hawaiian Eye, Combat!, The Wild Wild West, Perry Mason, Daniel Boone, Gunsmoke, Get Smart, Hawaii Five-O, Hogan's Heroes, Mission: Impossible, and Dallas. Wynant made ten guest appearances on Perry Mason, including three as Deputy District Attorney Sampson during the 1960-1961 season. In his first appearance on the show in 1958 he played defendant Daniel Conway in "The Case of the Daring Decoy." In 1963 he played murder victim Tobin Wade in "The Case of the Decadent Dean." One of his more memorable appearances was in the Twilight Zone episode "The Howling Man".