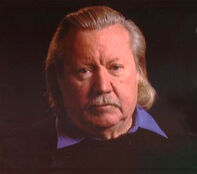 Glen A. Larson (often credited without the initial, which stands for "Albert") is a proliific American television producer, script writer, and occasional composer/songwriter who has been a mainstay of the television industry since the early 1970s.
Larson served as executive producer of the second and third The Six Million Dollar Man pilot telefilms (Wine, Women and War (which he also wrote) and The Solid Gold Kidnapping). These films were marked by a concerted effort to cast the character of Steve Austin in a James Bond-like role. But this failed to work as well as planned, and when a new producing regime took over for the weekly series, a different approach was taken.
Larson also co-wrote the "Six Million Dollar Man" theme song that was performed in both telefilms by Dusty Springfield.
Larson's many other producing credits include: The Men from Shiloh - the continuation series of The Virginian that co-starred Lee Majors, It Takes a Thief, Alias Smith and Jones, Switch, McCloud, Quincy M.E., The Hardy Boys/Nancy Drew Mysteries, the original Battlestar Galactica (he served as consulting producer on the 2000s reimagining), Buck Rogers in the 25th Century, Magnum PI, Knight Rider and the later Lee Majors series, The Fall Guy. A recent successful TV-movie revival of Knight Rider carried his executive producer credit.
Besides the Springfield theme music for The Six Million Dollar Man, Larson is also credited with composing or co-composing the themes to most of the shows he has produced, including the song "Suspension" from Buck Rogers, the iconic Knight Rider theme, the majestic Battlestar Galactica theme (which is also heard in the 2000s version of the series as the Colonial Anthem) and the song "The Unknown Stuntman" which Lee Majors sings at the start of every Fall Guy episode.