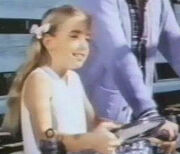 The young girl is a resident of Ojai, California. She thinks that Jaime Sommers is terrific, and is excited that the top seeded tennis pro went to the high school in Ojai. She believes that Jaime is the most important person to come out of her town, except for that astronaut guy (Steve Austin). The young fan knows that Jaime could beat tennis star Billie Jean King at Forest Hills, if only Jaime would tighten down her back hand a little.
Appearances
Ad blocker interference detected!
Wikia is a free-to-use site that makes money from advertising. We have a modified experience for viewers using ad blockers

Wikia is not accessible if you've made further modifications. Remove the custom ad blocker rule(s) and the page will load as expected.