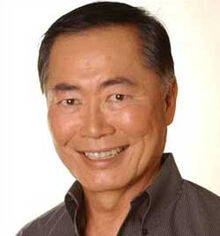 Asian-American actor George Takei is best known for his role as Lt. Sulu in the original Star Trek. A couple of years prior to his appearance in The Six Million Dollar Man, Takei dabbled in politics, running for Los Angeles city council (an election he lost). Later, he found his career revived by the Star Trek movies and he also wrote a science fiction novel, Mirror Friend, Mirror Foe with Robert Asprin. Many of his TV and film appearances in the 1980s and 1990s were either as Sulu, or referenced Sulu. Most recently, he had a recurring role on the NBC series Heroes. He's also played up his humorous side, becoming a regular contributor to the Howard Stern radio show, and as a commercial pitchman for televisions.
By coincidence, Takei's role on The Six Million Dollar Man came only a week after his Trek co-star William Shatner's own guest appearance.
Biography
External links
Ad blocker interference detected!
Wikia is a free-to-use site that makes money from advertising. We have a modified experience for viewers using ad blockers

Wikia is not accessible if you've made further modifications. Remove the custom ad blocker rule(s) and the page will load as expected.