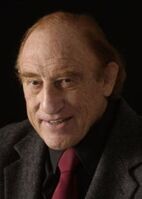 Guest Starred as Referee
Biography
"Judo" Gene LeBell the "Godfather of Grappling" is both a renowned ex-world champion in both wrestling / judo, and one of Hollywood's busiest stuntman. He is highly respected by many martial artists all over the world, and has been considered a ground breaker in many aspects of the art of grappling.
Gene started training in judo at a young age, and at the age of 20 in 1954 he won National AAU Heavyweight Judo Championship and the USA Overall Judo Championship title. After an illustrious judo career, Gene tried his hand at professional wrestling, and actually won the heavyweight title in Amarillo, Texas. However, in his excitement Gene swung the title belt around his head, which accidentally hit one of the wrestling commissioners on the head, causing a nasty gash. The belt was immediately seized from the shocked Gene, which in later years would give him to comment "Well, at least I was the champ for 12 seconds".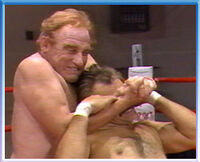 Gene went on to fight numerous opponents over the years including practitioners from other fighting arts that scoffed at Gene's prowess, however they learned the hard way that Gene's superb grappling skills were the real deal. Gene has trained with numerous other world champion martial artists including Chuck Norris, 'Bill Wallace'(II) and Benny Urquidez.
Gene has been acting and contributing stunt work to Hollywood productions for over fifty years. He can be seen in TV shows including "Mission Impossible", "I Spy", "The Wild Wild West", "Baretta", "Married With Children" and "Baywatch". Gene's feature film appearances include Raging Bull (1980), Remo Williams: The Adventure Begins (1985), Bad Guys (1986), Ed Wood (1994) and Men in Black II (2002).
The remarkable "Judo" Gene Lebell is still teaching grappling and doing stunts at age 70+, plus he has a highly popular website visited by martial arts and film fans all over the globe.
External Links
Ad blocker interference detected!
Wikia is a free-to-use site that makes money from advertising. We have a modified experience for viewers using ad blockers

Wikia is not accessible if you've made further modifications. Remove the custom ad blocker rule(s) and the page will load as expected.