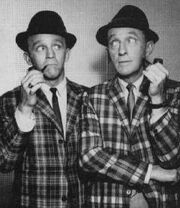 Guest Starred as Brady
Biography
Gary Crosby (b. June 27, 1933 - d. August 24, 1995) is best known as Bing Crosby's eldest son. He first appeared with his father in Star Spangled Rhythm (1942), and during the 1950s, the two sang several several duets. Not finding much success in a music career, Crosby turned to television and film. His credits include guest roles on Emergency! (1972, 1975) and Wonder Woman (1978). He also had recurring roles on Adam-12 (Officer Ed Wells, 1968 - 1975) and Hunter (Smitty, 1984 - 1985). In 1983, he wrote an autobiographical book entitled Going My Own Way, in which he accused his father of abuse. Crosby died of lung cancer after a long battle with addiction to both alcohol and smoking.
External Links
Ad blocker interference detected!
Wikia is a free-to-use site that makes money from advertising. We have a modified experience for viewers using ad blockers

Wikia is not accessible if you've made further modifications. Remove the custom ad blocker rule(s) and the page will load as expected.