Character played by: John Saxon
Fred Sloan
Job/Career or Title
Air Force Major
Appearances
SMDM 
Day of the Robot
Run, Steve, Run (flashback)
BW 
none
Reunion 
none
Major Fred W. Sloan of the United States Air Force first met Steve Austin at Lackland Air Force Base, and knew that Steve would "end up being one of the moon-shot boys." They were regular tennis partners at the time of Day of the Robot.
Sloan is the designer of an anti-missile component prototype. He first saw the need for an activator card when he was the Resource and Development (R and D) officer at Aberdeen Proving Grounds. He had been up to his ears in recovery vehicle guidance, but offered "to take a crack" at the missile guidance system when he found that they were having problems with it.
Oscar recruits Fred's tennis buddy Steve to escort Sloan to the Red Canyon military test site for the final test of the anti-missile missile defense system. En route, Sloan is kidnapped by Dr. Dolenz and replaced with a robot duplicate.
At first, Steve is taken in by the switch, and before he realizes it, Fred is far away. While Fred was held by Dolenz, his missile defense system was tested successfully, at which point the robot fled with the activator. While Steve thwarts the robot, Dolenz and Fred have disappeared.
Though he was thought to be dead, Steve finds Sloan sitting at a park bench near where the two had played tennis a few days earlier. As a result of the kidnapping, Sloan exhibits symptoms of amnesia, and apparently had gone to the park because of a vague memory of having to meet Steve for a tennis match. The circumstances of Sloan's survival/freedom are never revealed.
Action figure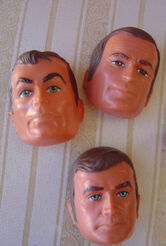 The Maskatron action figure, which bore striking similarities to Dolenz' robots, was released by Kenner Toys in the 1970s. The toy included several masks so that the toy could be "disguised" (again, a feature of the robots). Two of the masks were of Steve Austin and Oscar Goldman, while the third, though unidentified, closely resembles actor John Saxon, who played Fred Sloan.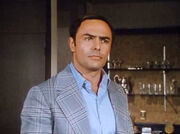 Ad blocker interference detected!
Wikia is a free-to-use site that makes money from advertising. We have a modified experience for viewers using ad blockers

Wikia is not accessible if you've made further modifications. Remove the custom ad blocker rule(s) and the page will load as expected.