Ad blocker interference detected!
Wikia is a free-to-use site that makes money from advertising. We have a modified experience for viewers using ad blockers

Wikia is not accessible if you've made further modifications. Remove the custom ad blocker rule(s) and the page will load as expected.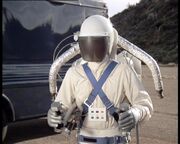 An individual self-contained Flying Suit that is powered by an atomic unit. The suit has a flight range of 400 miles, and can go from zero to 30,000 feet in altitude. It has enough power to outrun a helicopter and the maneuverability to give an eagle an inferiority complex.
The Flying Suit project was approved by General William Fuller. It is considered a very powerful piece of technology. Oscar Goldman predicts that "if the suit was acquired by a guerrilla warfare unit, no anti-terrorist defense could stop them."
In fact, John Mallory has already set his plan in motion to steal the prototype of the flying suit. Mallory estimates that he could get $5 million for the suit from one of the guerrilla groups in the Middle East, Africa, or the Caribbean. (Canyon of Death)