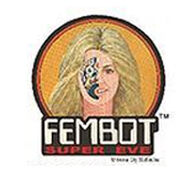 The Fembot doll (which carried the second name "Super Eve") was one of the later action figure releases in Kenner's Six Million Dollar Man/Bionic Woman toy lines. It was based upon the Fembot robot characters introduced in The Bionic Woman and was intended as a female counterpart to the Maskatron action figure (which had been loosely based upon the Chester Dolenz robots introduced in the first season of The Six Million Dollar Man).
Like Maskatron, the Fembot came with interchangeable face masks, allowed it to be disguised: one of Jaime Sommers and another of an unidentified "mystery woman". The doll was the same scale as the Jaime Sommers doll and, as such, could wear the same clothing.
A key difference between the Fembot and Maskatron is that Maskatron had pressure points where, when struck, parts of the doll could fly off, including the head. Fembot had no such features.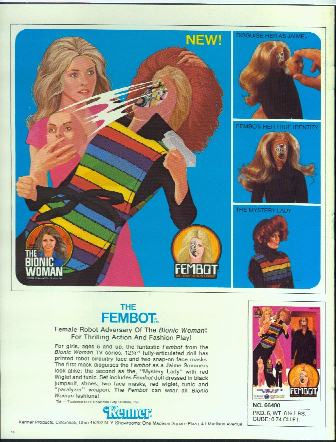 Ad blocker interference detected!
Wikia is a free-to-use site that makes money from advertising. We have a modified experience for viewers using ad blockers

Wikia is not accessible if you've made further modifications. Remove the custom ad blocker rule(s) and the page will load as expected.