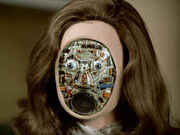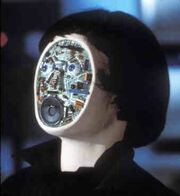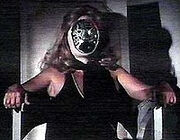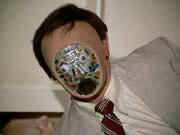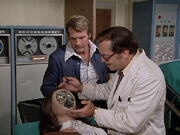 The term Fembot describes a series of powerful and deadly life-like androids, designed and created by former OSI scientist, Dr. Franklin.
Despite the feminine prefix, there were also male versions, including some designed to impersonate particular individuals for the purpose of infiltration. While not truly artificially intelligent, the fembots still had extremely sophisticated programming and social skills that allowed them to pass for human in most situations. However, their facemasks would sometimes dislodge during extreme combat situations to reveal the android's internal facial mechanism and circuitry, creating an inhuman image of menace.
The fembots' primary flaw was that of their default operational setting produced a unique high pitched sound that only Jaime Sommers (with her bionic ear) could hear. This allowed her to detect their presence. However, once Dr. Franklin was aware of this, he would immediately alter the operational 'frequency' of the fembot and the high pitch hum thus eliminated. Fembots on important missions were often remotely controlled by an operator back at the base who was able to see and hear everything through the android.
The fembots could also be detected because of their extreme weight of more than twice of what a similar sized human would weigh. This was due to them being constructed of heavy duty steel gears and gadgets. Steve Austin once discovered that Oscar Goldman had been replaced by one of Dr Franklin's robots by tossing a pencil in the path of where the robot was walking. When the robot of Oscar unwittingly stepped on the pencil, it got crushed into tiny fragments.
However,the fembots' strength and speed were superior to bionics. Whenever Jaime or Steve faced off against these deadly machines in battle, Dr Franklin, who would monitor fembots from the base could increase their power and make them extremely dangerous foes. Fortunately, Dr. Rudy Wells developed a beam mechanism that interfered with their functions enough for Austin or Sommers to defeat the machines in battle.
Numbers and Designations
From the first Fembot Crisis: (1976)
From the second Fembot Crisis: (1977)
Dynamite Entertainment Comics
Another new line of fembots will be featured in an upcoming story-arc.
Trivia
Action figure
Kenner created a Fembot doll as part of its Six Million Dollar Man/Bionic Woman line. Similar in concept to the Maskatron action figure, the doll came with removable masks that allowed it to be disguised as Jaime or as a generic female character.
Appearances