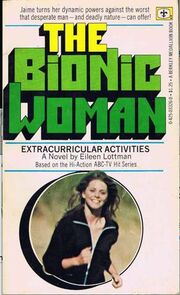 Extracurricular Activities, by Eileen Lottman, is the second and last novel based upon the original The Bionic Woman series to be released, following Welcome Home, Jaime. The novel combines the storylines of two Bionic Woman episodes into one novel, in much the same way as Mike Jahn's Six Million Dollar Man work, The Rescue of Athena One and International Incidents. The episodes adapted are "Claws" and "Canyon of Death". As the previous book incorporated storylines from The Six Million Dollar Man, that makes this book the only novelization solely based upon The Bionic Woman.
Unlike International Incidents, which presented the different storylines more or less separately, in this book the two TV stories are integrated into a singular negative, with the events of Claws treated as something of a subplot to the main storyline of Canyon of Death.
Lottman makes a serious break with established character continuity in this book by integrating elements of both Martin Caidin and Mike Jahn's narratives with regards to Steve Austin's bionics. Like Austin, Jaime is described as having her jaw, skullbone, and ribcage replaced with reinforced prosthetics, including the installation of a radio transmitter inside a rib, all of which which Caidin and Jahn describe as being part of Austin's bionic make-up but never established as part of Jaime's on TV.
The somewhat unusual title, Extracurricular Activities would appear to make this an intended companion release to Jahn's own International Incidents.
The UK edition of this book is retitled A Question of Life and is credited to "Maud Willis", one of Lottman's pseudonyms.