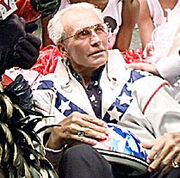 Evel Knievel (1938-2007) was a famous daredevil of the 1960s and 1970s best known for his motorcycle stunts, and for the many spectacular crashes and catastrophic injuries he survived. At the height of his popularity, Knievel appeared as himself in the Bionic Woman episode "Motorcycle Boogie".
Guest Starred as himself
Trivia
When first written about by the press, he requested that his nickname not be spelled with an I; knowing his fans were mostly youngsters, he didn't want parents to perceive him as "evil", or as an evildoer. As a public figure, Knievel promoted a healthy, active lifestyle for young people.
In his early stunt days, he sponsored himself through his own used-car dealership. Any potential buyer who could beat him at arm-wrestling got $100 off their car purchase.
International media attention to Evel's heroic, death-defying feats and his popular messages to the world's youth, promoting abstention from drugs and a healthy lifestyle with a positive mental attitude quickly transformed him into a National Icon. He became America's Legendary Daredevil. Though having attained super-star status, and genuine friendships with other stars like Elvis Presley, Jackie Gleason and Muhammed Ali, he remained affable and accessible to ordinary working people and children.
External links
Ad blocker interference detected!
Wikia is a free-to-use site that makes money from advertising. We have a modified experience for viewers using ad blockers

Wikia is not accessible if you've made further modifications. Remove the custom ad blocker rule(s) and the page will load as expected.