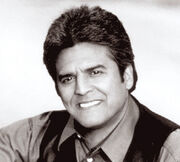 Guest Starred as Major Aram Sakari
Biography
Erik Estrada has a long career in film and television, guest starring in Airport 1975, Emergency!, Baywatch, and Hunter, but he is probably best known for his starring role in CHiP's (1977) and CHiP's 99 as Officer Francis 'Frank'/'Ponch' Poncherello.
External links
Ad blocker interference detected!
Wikia is a free-to-use site that makes money from advertising. We have a modified experience for viewers using ad blockers

Wikia is not accessible if you've made further modifications. Remove the custom ad blocker rule(s) and the page will load as expected.