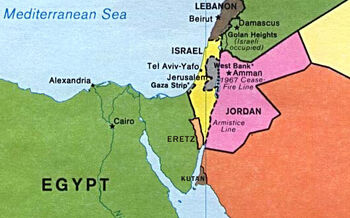 Eretz
is a fictional Middle Eastern nation.  Steve Austin is assigned to protect the prime minister of Eretz,
Salka Pal-Mir
.
Prime Minister Pal-Mir is involved in hopeful negotiations to resolve internal conflicts, when a heart problem disables her. (The Pal-Mir Escort).
Real World
Eretz is a Hebrew word meaning "land."  The nation of Israel is sometimes referred to as Eretz Yisrael, thus suggesting that Eretz in the world of the Six Million Dollar Man is a fictional stand-in for the real world nation of Israel.  Likewise, Salka Pal-Mir seems to be inspired by Israel's Golda Meir. 
Known Citizens of Eretz
Salka Pal-Mir, Prime Minister of Eretz

Dr. Av Ni
Shahvid, Chief of Security for the Prime Minister
Ad blocker interference detected!
Wikia is a free-to-use site that makes money from advertising. We have a modified experience for viewers using ad blockers

Wikia is not accessible if you've made further modifications. Remove the custom ad blocker rule(s) and the page will load as expected.