Ad blocker interference detected!
Wikia is a free-to-use site that makes money from advertising. We have a modified experience for viewers using ad blockers

Wikia is not accessible if you've made further modifications. Remove the custom ad blocker rule(s) and the page will load as expected.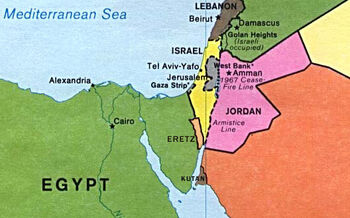 Eretz
is a fictional Middle Eastern nation.  Steve Austin is assigned to protect the prime minister of Eretz,
Salka Pal-Mir
.
Prime Minister Pal-Mir is involved in hopeful negotiations to resolve internal conflicts, when a heart problem disables her. (The Pal-Mir Escort).
Real World
Eretz is a Hebrew word meaning "land."  The nation of Israel is sometimes referred to as Eretz Yisrael, thus suggesting that Eretz in the world of the Six Million Dollar Man is a fictional stand-in for the real world nation of Israel.  Likewise, Salka Pal-Mir seems to be inspired by Israel's Golda Meir. 
Known Citizens of Eretz
Salka Pal-Mir, Prime Minister of Eretz

Dr. Av Ni
Shahvid, Chief of Security for the Prime Minister