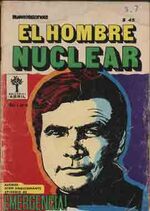 El hombre nuclear (literally: The nuclear Man) was the title used for the Spanish-dubbed version of the Six Million Dollar Man as seen in Mexico and some South-American countries such as Argentina.
Opening Narrations
"Steve Austin, astronauta. Su vida está en peligro. Lo reconstruiremos. Poseemos la tecnología para convertirlo en un organismo cibernético, poderoso, superdotado... EL HOMBRE NUCLEAR."
DVD Release Info
Main Article: Home Video Releases
The release of Season 1 in Mexico remains the sole release of the original in the NTSC format (the standard for television in the US, Mexico, Japan and others), and as of Summer 2010 is the only release to contain all three 1973 TV Movies in their original edits.

Release Title: El Hombre Nuclear. La Temporada Uno Completa
Release Date: January 28, 2008
Soundtrack: Spanish, English (Dolby Digital 2.0)
Subtitles: Spanish, English
Additional Features: None
Weblinks
Ad blocker interference detected!
Wikia is a free-to-use site that makes money from advertising. We have a modified experience for viewers using ad blockers

Wikia is not accessible if you've made further modifications. Remove the custom ad blocker rule(s) and the page will load as expected.