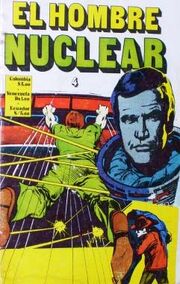 You may be looking for one of the other comic publications listed at The Six Million Dollar Man (comics), but especially for the Argentinian book of the same name
El Hombre Nuclear was a Spanish-language Six Million Dollar Man comic book published five times a year in Columbia in the late 1970s by GRECO (Grupo Editor Columbiano). It was officially licensed by Universal. Although the covers were in full color, the interiors were monochromatic. The chief artist and writer was Jorge Peña.[1]
Distribution
This comic was generally distributed in Columbia, Venezuela and Ecuador, as indicated by the cover pricing.
Title
The title is derived from the general South American Spanish name for the original telemovie. It has since become a somewhat confusing title to collectors of Spanish-language comics, as it is also the frequent Spanish-language name of the DC comic character, Firestorm. This owes to the subtitle on a part of the 1982 (US) run of Firestorm's solo title, Firestorm: the Nuclear Man.
Reference
Ad blocker interference detected!
Wikia is a free-to-use site that makes money from advertising. We have a modified experience for viewers using ad blockers

Wikia is not accessible if you've made further modifications. Remove the custom ad blocker rule(s) and the page will load as expected.