Ad blocker interference detected!
Wikia is a free-to-use site that makes money from advertising. We have a modified experience for viewers using ad blockers

Wikia is not accessible if you've made further modifications. Remove the custom ad blocker rule(s) and the page will load as expected.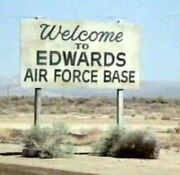 Edwards Air Force Base is a US Air Force installation in California, frequently used for military flight instruction and test piloting. It was from here that Steve Austin conducted the near-fatal test flight that resulted in his bionic replacement surgery. (The Six Million Dollar Man)
Austin was a graduate of the Test Pilot School on the base, where he had apparently earned the call sign — or at least nickname — "Cowboy". For an unspecified number of years after Austin left active duty in the Air Force, it was also the primary site of Austin's Reserves duty. He taught annually at the Test Pilot School on the base. One one such tour, he unexpectedly became temporary commanding officer of the school, when its usual Commandant, Joe Gordon, unexpecedly announced that he was going on vacation. During this brief stint as ranking officer at the school, Austin had to investigate a mysterious threat that was causing test planes to fail while aloft. He also had to deal with the changing face of the school, which had just begun to accept women, as well as pilots from other country's air forces. This latter change in the school's membership proved the greater test, however, as some of the students came from countries hostile to each other. (The Deadly Test)
Deconstructed
Edwards was often identified in the fictional reality of The Six Million Dollar Man through clear signage or background radio chatter. it was also seen, unbeknownst to most viewers, every week in the usual title sequence of The Six Million Dollar Man. The footage which showed the moment of impact was drawn from recordings captured of an actual crash at Edwards.
Perhaps because of its relative distance from Ojai, California, it featured less prominently in The Bionic Woman. Instead, the Air Force base at which Jaime Sommers taught school was the fictional Ventura Air Force Base, implying — because Ojai is located in Ventura County — a shorter commute time for Jaime. To the extent that test flights were a part of Jaime's missions, they occured there, rather than at Edwards. (Canyon of Death).
External Link