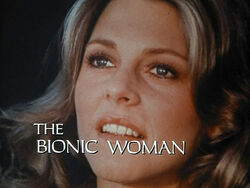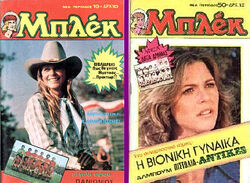 Η Βιονική Γυναίκα (literally: The Bionic Woman) was the title used for the Greek version of the Bionic Woman. In Greece, the Bionic Woman was a big hit immediately. It premiered on November 3rd 1979. All 3 seasons were broadcasted. Many greek magazines featured Lindsay Wagner on their cover. Therefore, the Greek magazine Mplek often featured articles and pictures that were related to the show.
Confusion
There is some confusion with the Greek title. Obviously, Η Βιονική Γυναίκα was the title that was also used for the Greek broadcast of Wonder Woman. Actually Wonder Woman has never been broadcasted on the Greek TV. There was a DVD release of Wonder Woman for the greek market that had mistakenly the title of the show translated into the greek language as Η Βιονική Γυναίκα.
Ad blocker interference detected!
Wikia is a free-to-use site that makes money from advertising. We have a modified experience for viewers using ad blockers

Wikia is not accessible if you've made further modifications. Remove the custom ad blocker rule(s) and the page will load as expected.