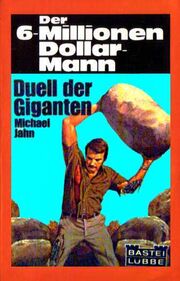 Michael Jahn: Duell der Giganten
German translation of: The Secret of Bigfoot Pass
Translated by: Ekkehart Reinke
Published by: Bastei-Lübbe, Bergisch-Gladbach (Germany)
Year of Publication: 1978
ISBN: 3-404-01102-3
Price: DM 3.80
Blurb: Steve Austin, der Sechs-Millionen-Dollar-Mann, ist der Held der gleichnamigen amerikanischen Fernsehserie, die zu den erfolgreichsten Serien zählt, die je gedreht worden sind.
Eine Gruppe von Erdbebenforschern ist in den Rocky Mountains spurlos verschwunden. Steve Austin, der Sechs-Millionen-Dollar-Mann, macht sich auf die Suche nach den Verschollenen - und steht plötzlich einem Monster aus grauer Vorzeit gegenüber. Es ist der legendäre Bigfoot - Großfuß, der Gigant der Berge...
Notes
The cover art shows a likeness of Lee Majors as Steve Austin, but with his left arm bionic, not his right as seen on TV. This is not erroneous as the literary version of the character, as established by Martin Caidin, had his left arm replaced, not his right, and the writers who adapted the various episodes in novel form generally used Caidin's version of the character.
Ad blocker interference detected!
Wikia is a free-to-use site that makes money from advertising. We have a modified experience for viewers using ad blockers

Wikia is not accessible if you've made further modifications. Remove the custom ad blocker rule(s) and the page will load as expected.