Ad blocker interference detected!
Wikia is a free-to-use site that makes money from advertising. We have a modified experience for viewers using ad blockers

Wikia is not accessible if you've made further modifications. Remove the custom ad blocker rule(s) and the page will load as expected.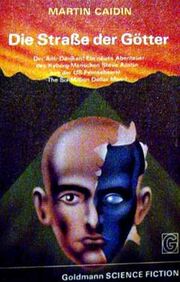 Martin Caidin: Die Straße der Götter
German translation of: High Crystal
Translated by: Tony Westermayr
Published by: Goldmann, Munich (Germany)
Year of Publication: 1974
ISBN: 3-442-23218-X
Blurb: Hoch in den Anden Perus entdeckt ein verunglückter Pilot eine seltsame, uralte Straße: glatt wie Marmor, in 3000 Meter Höhe. Wer hat sie gebaut? Der Kyborg-Mensch Steve Austin leitet die Expedition in eine Welt des Undenkbaren, Unglaublichen...