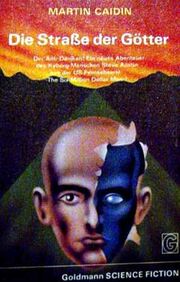 Martin Caidin: Die Straße der Götter
German translation of: High Crystal
Translated by: Tony Westermayr
Published by: Goldmann, Munich (Germany)
Year of Publication: 1974
ISBN: 3-442-23218-X
Blurb: Hoch in den Anden Perus entdeckt ein verunglückter Pilot eine seltsame, uralte Straße: glatt wie Marmor, in 3000 Meter Höhe. Wer hat sie gebaut? Der Kyborg-Mensch Steve Austin leitet die Expedition in eine Welt des Undenkbaren, Unglaublichen...
Ad blocker interference detected!
Wikia is a free-to-use site that makes money from advertising. We have a modified experience for viewers using ad blockers

Wikia is not accessible if you've made further modifications. Remove the custom ad blocker rule(s) and the page will load as expected.