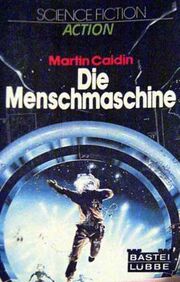 Martin Caidin: Die Menschmaschine
German translation of: Operation Nuke
Translated by: Ekkehart Reinke
Published by: Bastei-Lübbe, Bergisch-Gladbach (Germany)
Year of Publication: 1978
ISBN: 3-404-01050-7
Price: DM 3.80
Blurb: Bei einem Flugzeugabsturz fand Steve Austin fast den Tod. Doch sein Leben als Krüppel erschien ihm noch schrecklicher. Bis die Wissenschaft ihm zu einem neuen Dasein verhalf. Man ersetzte die fehlenden Gliedmaßen durch perfekte Prothesen und stattete ihn zusätzlich mit übermenschlichen Fähigkeiten aus. Er wurde zur Menschmaschine - und damit zur gefährlichsten lebenden Waffe, die der amerikanische Geheimdienst einsetzen konnte. Nach diesem Roman wurde eine der erfolgreichsten Fernsehserien in den USA gedreht - The Six Million Dollar Man.
Ad blocker interference detected!
Wikia is a free-to-use site that makes money from advertising. We have a modified experience for viewers using ad blockers

Wikia is not accessible if you've made further modifications. Remove the custom ad blocker rule(s) and the page will load as expected.