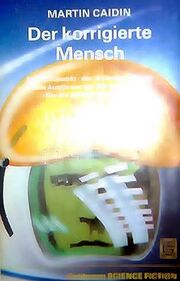 Martin Caidin: Der korrigierte Mensch
German translation of: Cyborg
Translated by: Tony Westermayr
Published by: Goldmann, Munich (Germany)
Year of Publication: 1972
ISBN: 3-442-23226-0
Blurb: Der "Kyborg" (aus "kybernetischer Organismus") ist durch und durch Mensch, aber mit außergewöhnlichen körperlichen Fähigkeiten, wie sie nur die neuesten, streng geheimgehaltenen Forschungsergebnisse der medizinischen Wissenschaft ermöglichen. Steve Austin hatte bei einem Absturz beide Beine, einen Arm - und seinen Lebensmut verloren. Und die bedeutendsten Wissenschaftler des Pentagon schufen aus dem, was von ihm übriggeblieben war, ein Wunder an körperlicher Perfektion. Austin wurde damit zur gefährlichsten Waffe, welche die CIA je zum Einsatz gebracht hatte...
Ad blocker interference detected!
Wikia is a free-to-use site that makes money from advertising. We have a modified experience for viewers using ad blockers

Wikia is not accessible if you've made further modifications. Remove the custom ad blocker rule(s) and the page will load as expected.