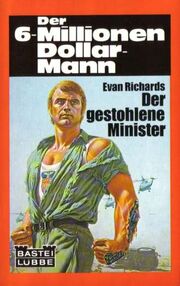 Evan Richards: Der gestohlene Minister
German translation of: Solid Gold Kidnapping
Translated by: Ekkehart Reinke
Published by: Bastei-Lübbe, Bergisch-Gladbach (Germany)
Year of Publication: 1978
ISBN: 3-404-01053-1
Price: DM 3.80
Blurb: Steve Austin, der Sechs-Millionen-Dollar-Mann, ist der Held der gleichnamigen amerikanischen Fernsehserie, die zu den erfolgreichsten Serien zählt, die je gedreht worden sind.
Eine Bande hat den amerikanischen Minister für internationale Sicherheitsfragen entführt. Gegen ein Lösegeld von einer Milliarde Dollar in Gold will man ihn wieder freilassen. Doch eine Weltmacht läßt sich nicht erpressen. Amerika greift zu seiner teuersten und intelligentesten Waffe: Steve Austin, die Menschmaschine!
Notes
The cover art shows Steve Austin with his left arm bionic, not his right as seen on TV. This is not erroneous as the literary version of the character, as established by Martin Caidin, had his left arm replaced, not his right, and the writers who adapted the various episodes in novel form generally used Caidin's version of the character.