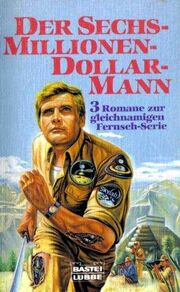 Michael Jahn, Jay Barbree, Evan Richards: Der Sechs Millionen Dollar Mann - 3 Romane zur gleichnamigen Fernsehserie
Contains: Der Atombomben-Coup (Wine, Women, and War), Der gestohlene Minister (Solid Gold Kidnapping) and Blindflug (Pilot Error).
Translated by: Ekkehart Reinke
Published by: Bastei-Lübbe, Bergisch-Gladbach (Germany)
Year of Publication: 1989
ISBN: 3-404-13198-3
Blurb: Der Sechs-Millionen-Dollar-Mann ist der Held der gleichnamigen amerikanischen Fernsehserie, die zu den erfolgreichsten Serien zählt, die je gedreht wurden.
Der Astronaut Steve Austin war als Besatzungsmitglied von Apollo 17 der letzte Mensch, der den Mond betreten hatte. Kurz darauf stürzte er bei einem Testflug ab. Wie durch ein Wunder überlebte er, obwohl ihm bei dem Unfall mehrere Körperteile abgerissen oder völlig zerfetzt wurden. Die amerikanische Regierung investierte sechs Millionen Dollar, damit ein Team von Wissenschaftlern und Ärzten ihn wieder zusammenflicken und mit Fähigkeiten und Fertigkeiten ausstatten konnte, die ihn zu einem Supermann machten. So wurde Steve Austin der Sechs-Millionen-Dollar-Mann, der Superagent für den amerikanischen Geheimdienst.
Notes
The cover art shows a likeness of Lee Majors as Steve Austin, but with his left arm bionic, not his right as seen on TV. This is not erroneous as the literary version of the character, as established by Martin Caidin, had his left arm replaced, not his right, and the writers who adapted the various episodes in novel form generally used Caidin's version of the character.
Ad blocker interference detected!
Wikia is a free-to-use site that makes money from advertising. We have a modified experience for viewers using ad blockers

Wikia is not accessible if you've made further modifications. Remove the custom ad blocker rule(s) and the page will load as expected.