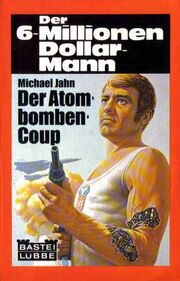 Michael Jahn: Der Atombomben-Coup
German translation of: Wine, Women, and War
Translated by: Ekkehart Reinke
Published by: Bastei-Lübbe, Bergisch-Gladbach (Germany)
Year of Publication: 1978
ISBN: 3-404-01052-3
Price: DM 3.80
Blurb: Steve Austin, der Sechs-Millionen-Dollar-Mann, ist der Held der gleichnamigen amerikanischen Fernsehserie, die zu den erfolgreichsten Serien zählt, die je gedreht worden sind.
Sein Name: Steve Austin, die Menschmaschine, Amerikas wirkungsvollste Waffe im Kampf gegen die Bedroher des Weltfriedens. Sein Gegner: Arlen Findletter, Beruf Waffenhändler. Sein Angebot läßt Revolutionäre, Terroristen und machthungrige Diktatoren aufhorchen - ein atomgetriebenes Unterseeboot der US Navy und eine mit Atom-Sprengköpfen ausgerüstete Langstreckenrakete!
Notes
The cover art depicts Steve Austin with a bionic left arm, which is in keeping with the original Martin Caidin concept of the character. Novel writer Mike Jahn (here credited as Michael Jahn) used this version of the character in his novelization, so the artwork is not erroneous.
Ad blocker interference detected!
Wikia is a free-to-use site that makes money from advertising. We have a modified experience for viewers using ad blockers

Wikia is not accessible if you've made further modifications. Remove the custom ad blocker rule(s) and the page will load as expected.