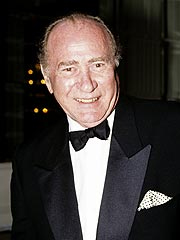 Darren McGavin (1922-2006) played Oliver Spencer in the original pilot film The Six Million Dollar Man.
McGavin appeared in a wide range of film and TV series, with his film work dating back to 1945, though his career didn't take off until he appeared in a string of 1955 successes: The Court-Martial of Billy Mitchell, The Man With the Golden Arm, and David Lean's Summertime. His TV career took off in 1957 when he became the first actor to play Mickey Spillane's detective Mike Hammer on television.
However, his most enduring TV role came in 1971 when he debuted as reporter-turned-paranormal investigator Kolchak in the telefilm The Night Stalker, which eventually became a short-lived, but well-regarded, TV series called Kolchak: The Night Stalker in 1974. It was around the time of his second Kolchak TV movie that McGavin appeared as Oliver Spencer in 1973. However, when the initial TV movie proved popular enough for ABC to commission more Six Million Dollar Man TV movies, McGavin declined, opening the door for Richard Anderson to take over as Oscar Goldman.
While one generation remembers McGavin as Kolchak, those who grew up in the 1980s remember him best as the foul-mouthed, somewhat discombobulated, but well-meaning father in A Christmas Story. McGavin earned an Emmy in 1990 for his recurring role as Murphy Brown's father on the sitcom of the same name, and he later had the opportunity to pay homage to Kolchak by guest-starring on the Kolchak-inspired The X-Files.
External links
Ad blocker interference detected!
Wikia is a free-to-use site that makes money from advertising. We have a modified experience for viewers using ad blockers

Wikia is not accessible if you've made further modifications. Remove the custom ad blocker rule(s) and the page will load as expected.