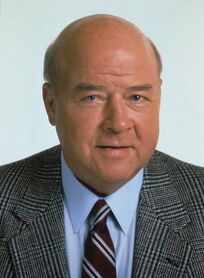 Dana Elcar was born in Ferndale Michigan. He is perhaps best known for his role as Pete Thornton in the spy series MacGyver in the late 1980s/early 1990s. At the time of his appearance on the Six Million Dollar Man he was playing Col. Lard on the war drama Black Sheep Squadron, and had recently been a co-star in the crime drama Baretta, earning him a special guest star credit. He later appeared in a number of films, including the Get Smart reunion movie The Nude Bomb. Elcar died in 2005 after a well-publicized battle with glaucoma, a disease that robbed the actor of his sight by the end of his run on MacGyver; in the series, Elcar's character also developed glaucoma and went blind.
Six Million Dollar Man
External links
Ad blocker interference detected!
Wikia is a free-to-use site that makes money from advertising. We have a modified experience for viewers using ad blockers

Wikia is not accessible if you've made further modifications. Remove the custom ad blocker rule(s) and the page will load as expected.