(1971-79)
The détente is a period of thawing out or un-freezing in roughly the middle of the Cold War.
1971 - Détente becomes the foreign policy of US president Richard Nixon towards USSR.
1964-1982 - Leonid Brezhnev is in office as the Head of the USSR. Brezhnev pushes for détente at the helm of the USSR.
May 1972 - Strategic Arms Limitation Talks I (SALT I) is signed.
Nov 1973 - US international negotiator William Henry Cameron is taking a negotiating trip to Peking ("The Solid Gold Kidnapping").
Jan 1974 - Oscar Goldman engages himself in direct conversation with the Russians. However, some parties would not like such talks to proceed, and plan to murder Oscar ("Survival of the Fittest").
Mar 01, 1974 - Soviet Col. Vasily Zhukov proposes a joint US-USSR nuclear powered manned mission to Mars ("Doomsday, and Counting", see above).
Aug 1975 - The Helsinki Accords are signed.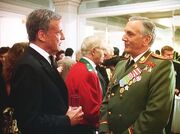 Feb 1976 - As a gesture of promoting friendship and trust, a Soviet troupe tours the US. The star of the troupe is gymnast Tanya Breski. Steve Austin protects her during her stay in the US ("Love Song for Tanya").
Jan 1978 - Oscar and Russian diplomat Dmitri Zhukov (upon consulting his party and his government) agree to take the same stance in negotiating between two Middle East powers ("The Antidote").
Feb 1978 - An exhibition of Russian masterpieces of fine art is taking place at the National Gallery in Washington, for cultural exchange and much more. The news goes: In an unprecedented expression of openness and trust, [the USSR] has given new meaning to the concept of Détente by allowing viewers an intimate look at [her] people, traditions, mind and heart ("The Madonna Caper").
Oscar Goldman states that If we don't get that painting, we might be back in a Cold War..., indicating a quite notable state of détente then ("The Madonna Caper").
Mar 1978 - General Simeon Norbukov and Oscar Goldman team up their agents Andrea Mestrova and Steve Austin in tracing a mobile launcher developed by the USSR and missiles developed by the US from a terrorist group ("The Moving Mountain").
Dec 24, 1979 - The Soviet war in Afghanistan starts. The détente ends.
1989 - Oscar meets Russian General Dzerinsky, and both believe that previous conflicts should give way to détente again ("Bionic Showdown").
Ad blocker interference detected!
Wikia is a free-to-use site that makes money from advertising. We have a modified experience for viewers using ad blockers

Wikia is not accessible if you've made further modifications. Remove the custom ad blocker rule(s) and the page will load as expected.