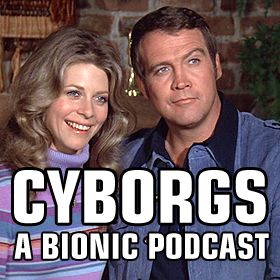 Launched in November of 2011, Cyborgs - A Bionic Podcast is a twice monthly audio examination of The Six Million Dollar Man and The Bionic Woman, one episode at a time, in original broadcast order - including the three Pilot Telefilms and three Reunion Movies. Part of the Chronic Rift media network, the podcast is produced and hosted by John S. Drew and Paul K. Bisson. Joining them is a rotating roster of guests including science fiction authors like Dayton Ward, Keith R.A. DeCandido, and Robert J. Sawyer to Bionic aficionados like James Sherrard, Joe Burns, and Matt Hankinson. As part of our Bionic Affiliation Program, each of our episode articles will include a link to the corresponding Cyborgs podcast.
Latest Podcast
Cyborgs: A Bionic Podcast on "The Wolf Boy" Click here to listen!

List of Cyborgs Episodes
Pilot Movies
Season One
Season Two
Ad blocker interference detected!
Wikia is a free-to-use site that makes money from advertising. We have a modified experience for viewers using ad blockers

Wikia is not accessible if you've made further modifications. Remove the custom ad blocker rule(s) and the page will load as expected.